We Are All Trayvon Martin
The Trayvon Martin trial captured the country as no other had since O.J. Simpson. It was more than just a heinous crime, it was social injustice. No one ever imagined that on that dark, rainy night, the life of a young man would be stripped from him in cold blood. Carrying nothing but a bag of Skittles he had just bought from a convenience store, the only crime he committed that night was walking into the path of George Zimmerman. That is why Huong, a Vietnamese war refugee and peace activist decided to step forward and create a provocative mural that showed the public we all are one, one human species, and that there is no space for racism in our society. An 8-feet tall and 50- feet long mural conceived by the catastrophic event of the death of Trayvon Martin. Artist Huong and her interns Jesse Paz, Stephennie Figueroa Ramos, Bryan A. Palacio, Joanna Ruffin, Bijal Mehta, and Julieta Crespo fervently created pieces of work meant to inspire understanding and equality. Using images of important figures throughout US history as well as famous quotes on racism, Huong created a mural unlike any other to date to tackle on the nations' current and increasing racism incidents against minorities and African American. 
It was a disheartening time in America. The sorrow from the casualty seemed to endlessly carry on and African-American parents everywhere hugged their sons just that much tighter. The outcry from citizens was unprecedented and the "I am Trayvon Martin" Campaign came to fruition overnight demanding justice. The Miami Heat put out took a team photo with every player wearing hoodies, celebrities from all around wore shirts that said, "I am Trayvon Martin," and President Obama commented that if he were to have a son, he'd look like Trayvon. Support poured out from everywhere and brought the country together through unified despair.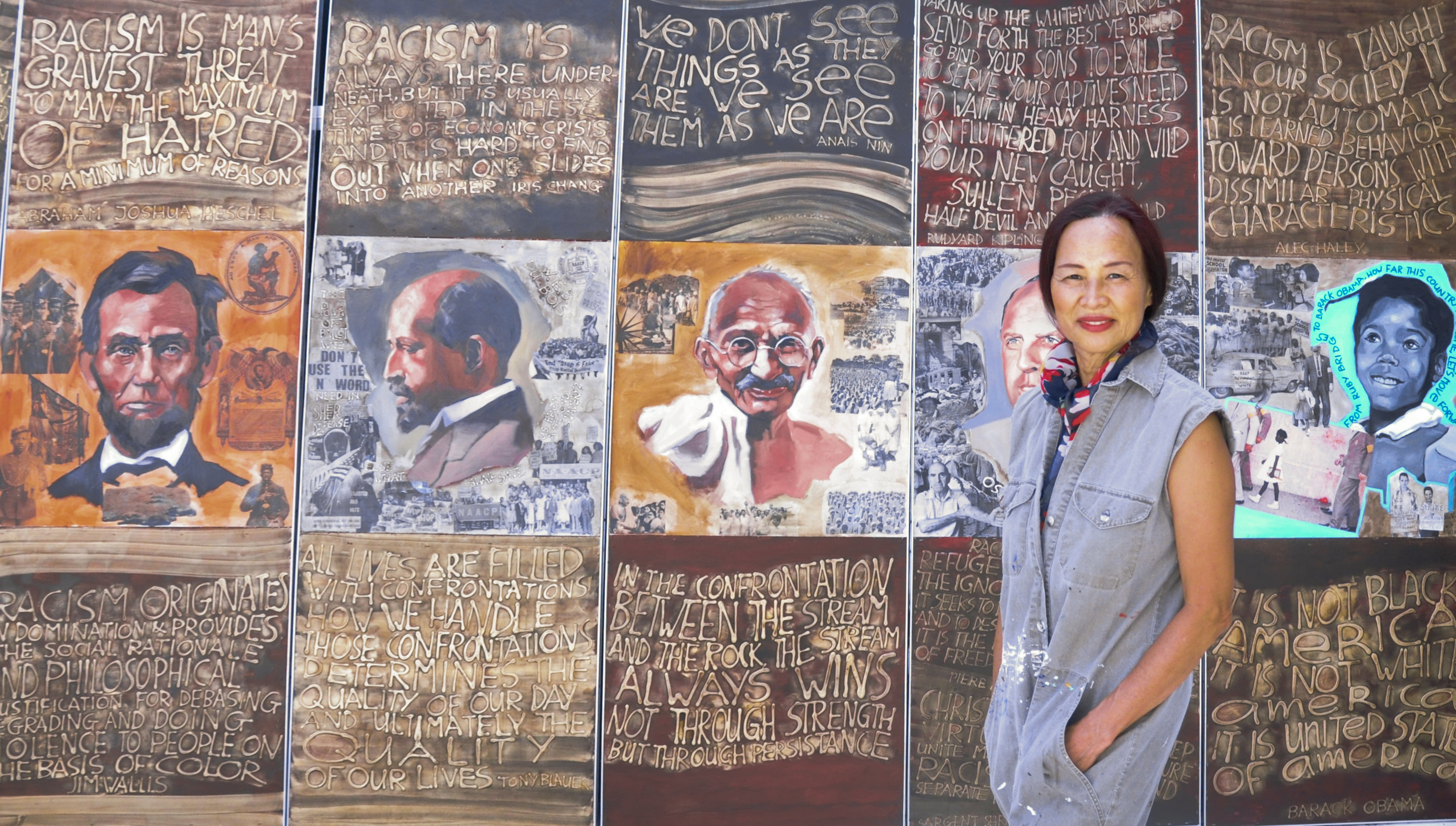 It was a rough time but the positive was that it served to unify the country, even if just for one split-second. Everyone could finally agree on at least one premise: racism was still an issue and it had to be dealt with. Because of this, many were inspired, including the Peace Mural Foundation, to make a difference. We decided not to stay quiet and make sure that we would be the voice Trayvon Martin was not allowed to keep. That is why we created this work, to ensure that everyone knows of the horrors that are still evident in our society and to educate the public on the monstrosity that is racism. Unfortunately, under Trump's administration, racism appears to have increased with attacks and racially motivated hate crimes and speeches happening often. Moreover, Trump's latest attacks against on 4 congressmen with hate phrases as "send them back" make us all want to continue our work as a peace foundation to educate the public with our art in hopes that justice, equality, and respect will prevail over a racist agenda. As the Trayvon's trial came and went, and, regardless of what you think of the justice system, it served its purpose. But, don't be fooled. Regardless of any verdict, the jury could've handed out, there would have been no way to provide justice for Trayvon's family. The only justice would be to prevent a disaster like this from ever happening again and making sure there is only one ever Trayvon Martin.